Luke Fletcher, Healthy Air Champion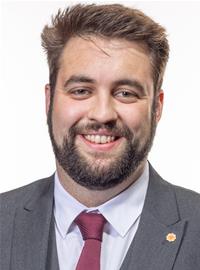 As a Healthy Air Champion, Luke raises awareness of the impact of poor air quality on our everyday lives.
Alongside Healthy Air Cymru's other Healthy Air Champions, Luke is working hard to get Wales a Clean Air Act.
Luke was elected to the Senedd in May 2021. He is a member of the Economy, Trade, and Rural Affairs Committee, Petitions Committee, and several cross- party groups including the Cross-party Groups for Cancer; Digital in Wales; and Industrial Communities.
Luke says:
"It's appalling how many children need to use an inhaler these days. We can and must do something about it. Cleaning up our air must be a top priority but it won't happen unless we pass a law and have proper regulation. As a Healthy Air Champion, I'll do my best to fight for a Clean Air Bill as soon as possible."
Air pollution contributes to almost 1,400 early deaths in Wales and costs the Welsh NHS almost £1billion every year.
Many families across Wales feel the impact of air pollution on their daily lives. More and more children are developing asthma, their lungs are not developing as they should be, and people's existing health conditions are getting worse.
To save lives, and improve the health of the nation, we need legislation as soon as possible to clean up the air that we breathe.