Huw Irranca-Davies, Healthy Air Champion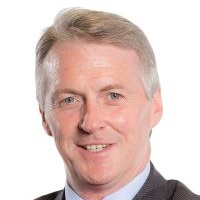 As well as being a Healthy Air Champion, Huw is chair of the Cross Party Group – a Clean Air Act for Wales.
A keen walker and "everyday cyclist on a sit-up-and-beg-bike", he is chair of the Cross Party Group – Active Travel Act and Vice-President of Ramblers Cymru.
Huw is married to Joanna Irranca-Davies (they combined their surnames Davies and Irranca on marrying, becoming Irranca-Davies). They have three sons, and are all proud of their Welsh and Italian family roots.
Born into a strong Labour Party family, he has long been a grass-roots campaigner and active in community regeneration.
Huw works hard to raise awareness of the impact of poor air quality on our everyday lives, and to get Wales a Clean Air Act.
Air pollution contributes to almost 1,400 early deaths in Wales and costs the Welsh NHS almost £1billion every year.
Many families across Wales feel the impact of air pollution on their daily lives. More and more children are developing asthma, their lungs are not developing as they should be, and people's existing health conditions are getting worse.
To save lives, and improve the health of the nation, we need legislation as soon as possible to clean up the air that we breathe.

Air pollution is also bad for our planet. Reducing air pollution will not only benefit our health but also reduce emissions that are leading to climate change.